Well this week I'm rambling from a v.remote lakeside country park, with hotspot wi-fi via my phone making this post possible (or not, well see when I come copy this out of a notepad to try and post it lol).
So I haven't done much creatively the last few days part from getting videos ready for
Journal Workshops
. Firstly yesterday I posted a very late video that included a portrait tutorial on a recycled page for a previous challenge on '
Two Recycled Items
' from June:
Then today I posted this Months Challenge video here:
but I won't go on about this too much as I did so in my Monthly Newsletter yesterday and don't want to bore those readers with the same things. In the newsletter I'm doing a giveaway of some new
Art Girl Pin Badges
I've created and it has just now made me realise how long it's been since I've done a blog giveaway - so I'll give one away here too =) Here are what they look like: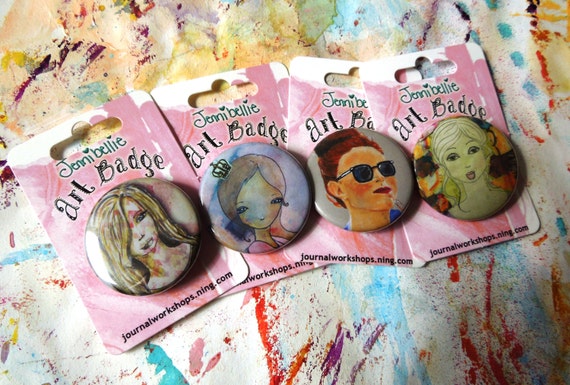 I shall choose a winner in next weeks weekly ramble and the rules are my normal ones ( 1: to be a follower of this blog via the button on the right column, and/or Bloglovin', and 2: leave me a comment on this post so I know you want to be entered).
That's about all for this ramble, I wanna post this while my wi-fis here lol
See you when I get back from the countryside (but I've got my art kit with me so it could be sooner!)
Have a happy week, mwah!