I'm VERY excited today because I finally get to show you something I've been working on & itching to show you for months and have a **GIVEAWAY** - double yay!
So let me introduce you to my new Cutie Pie Embellishments which after much, much, much hard work finally are in the shop yay! I've been working on them since this post in fact, but i
f you're a regular reader you may recognize them as being born
out of this post
:
where I had a Cutie sketch attack while watching the Bourne Triology...coz you know Matt Damon does that to me (...not really...well
may be).
...since then I've been painting, editing & adapting them, and during my downtime trawling through suppliers to get *exactly* what I wanted. I only have the embellishments in stock at the mo, anything else
will just have to be a future surprise
because ever since I re-opened my etsy shop I have been working for it to contain some really nice items, because if people are going to spend their money with me I want it to on special things that make you *squeak* when you receive the envelope - or digi file - lol. And
I've also been
itching
to do a giveaway for AGES (ever since my last one in fact) and
so it seemed nice to combine the two. So currently I have made: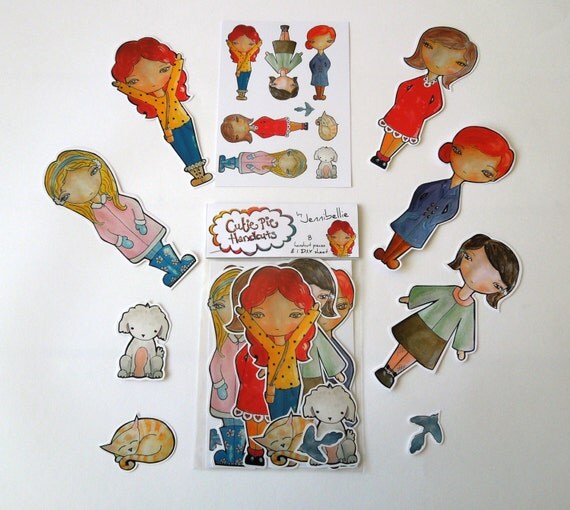 Blurb:
Hand-cuts:
my artisan take on die-cuts.
My original watercolour paintings turned professionally into prints that are then individually and lovingly cut out by my own hand (...so chuffed with myself when I came up with the name 'Hand-cuts'!).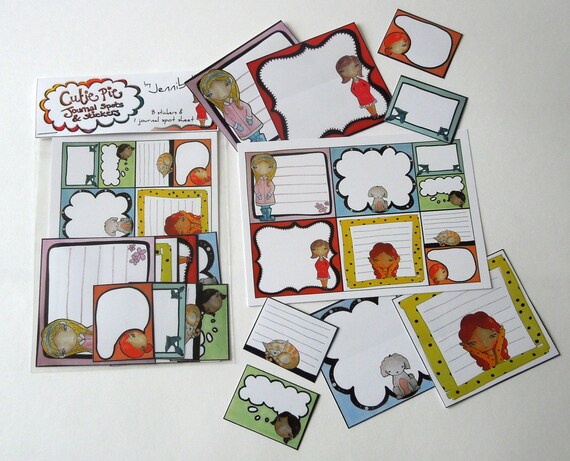 Blurb: J

ournaling spots and stickers

created from my original girlie & animal Cutie-Pie watercolour paintings. Professionally printed then cut by hand; they are craft supplies, but with a handmade artsy edge
.
so now I've let you know what they are
in the giveaway are 3 prizes;
Prize 1: Cutie Pie Embellishment Bundle: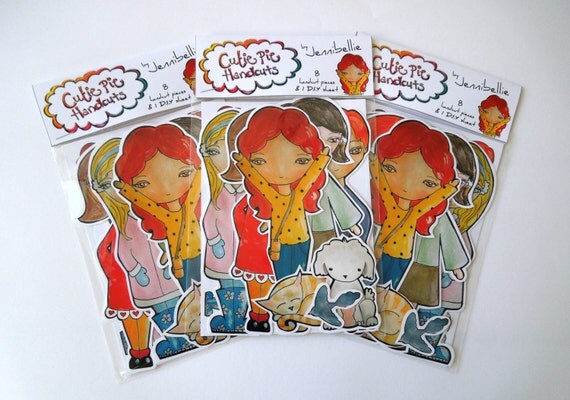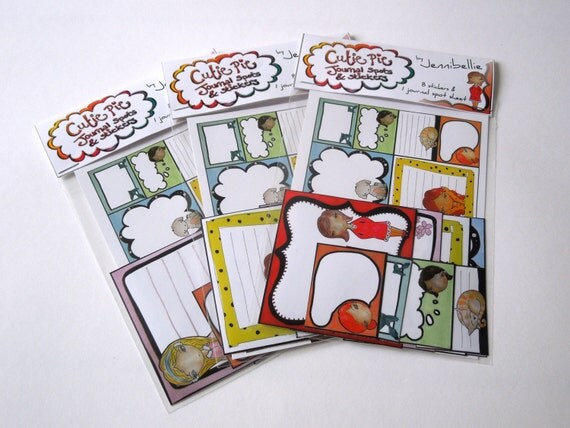 So to enter it's just my regular simple rules of:
1) be a follower of this blog by clicking the 'join' button over there -------->
(though Google Reader is dying soon so if you want to keep up with my posts you can follow me on Bloglovin as well)
2) leave me one comment on this post telling me you want to enter...
(
though previous giveaways have given insights to explain
I have approval filters on so don't send it through 50 times thinking it's disappeared - if you post it, I'll get it. Nor do I
go in for all the 'like on here, there and everywhere and get an extra 50,000 entries', I keep it simple & fair for all so ONE comment only please. Finally if you
leave a comment as 'anonymous' you MUST leave me your name and email in that comment - I may have many magical talents but guessing a random anonymous persons email address is beyond anyone's magical wand capabilities!)
That's it! I'll announce the winners in one week, on the 15th May. First name outta the hat will get prize 1, second name prize 2 etc. Simples. Oh and if you wana make sure you get a set of Cutie Pies in the meantime but are a winner of what you buy I'll just refund the purchase (and the p&p) via paypal once you've been picked. All countries welcome to enter.
Good luck to everyone & remember to come back on the 15th =)