Hello, hello!! I'm back, did you miss me?? I missed you. Thank you to everyone that's left such warming comments for me in my absence...and while I said I was going to stay off of the computer (which I did do very well I think) I did check sites & messages on my phone still - you can take the internet away from the girl (...but only if she doesn't sneak a smart phone up her sleeve or under her pillow lol) still it did mean that if you sent me a message I did read it, so thank you to everybody for being so supportive (right down from the tips of my toes!)
So what's been happening in Jennibellie-land? Well creatively not much. I was actually away longer than I had intended; first I was very unwell and wanted to do nothing but watch tv shows on the sofa (I even brought all the twilight movies to watch consecutively in bed like a teenager lol). Then when I started to feel better physically I still just felt so drained in everything else; I was creatively burned out. This page below was the only art journal page I did during the whole of my absence, done after Margaret Thatcher died:
As you can tell not very 'arty', it is just a sketch on an already-painted background and A LOT of writing. And writing is what I mainly did as a creative release, because while I felt emotionally drained my mind was just going crazy - it did not seem to recognise that my hands were not willing to comply so gave me about 50 ideas for new projects a day (or may be it did realise & tried to overcompensate!), either way it was driving me nuts. So I wrote everything down in the hopes these ideas would leave me alone (yeah right!). But writing still proved useful, and through recognising this, and the fact that I just did not feel
like
physically
creating anything I started to write other things. It worked at calming down my whirling brain by giving it a singular creative focus, and within a week or so, I had completed my first brand new zine in years: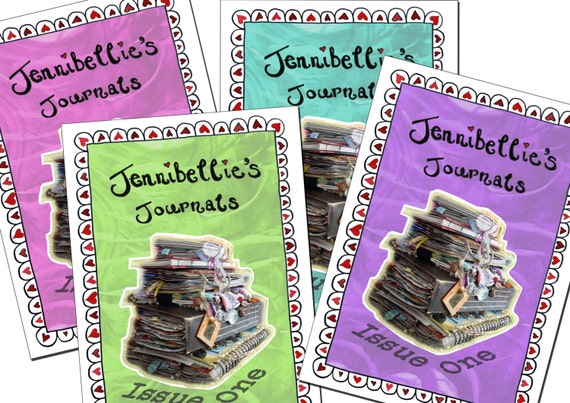 jennibellie's journals - my new zine
It is my first perzine (personal zine) and was one of the most cathartic experiences I've ever been through; I think not only because of the emotional toils I was revisiting on the page, but also because of my current emotionally low plateau. Either way it helped, like extracting something
poisonous you didn't even know was stinging you. This zine is about the secrets behind the journal page (or more specifically behind my journal pages) - the life,
the experiences,
the heartaches, the fears etc. There's more info on why I wrote it from this 'who, what, why' page from the actual zine: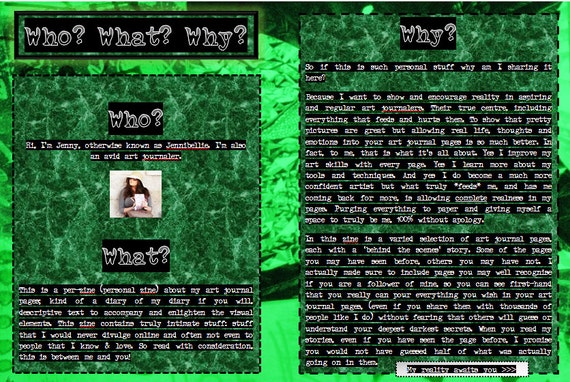 if you want to read it click on it I'm sure it'll become bigger
So I'm pretty pleased I managed to 'create' something while still listening to myself and not actually creating anything lol.
The zine isn't available yet, but I have sent it off to be professionally printed so I'll let you know when it's available if you're interested in reading it. Speaking of, I said I would say when the hard copies of my
Prompted Art Journals
are ready for sale, and finally as of today are they in: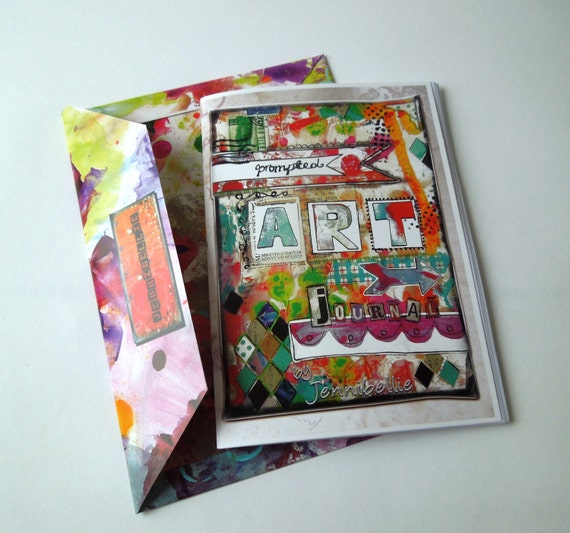 click the pic
So other than hand-making the matching envelopes to go with journals I've not done much arty hands-on stuff more recently either. The most I have done is over a pre-arranged art weekend with a friend (this last weekend just gone) and in showing her how to make things I did feel a bit of my spark did come back. I made my studio a bit prettier and recorded some footage for a new video to do with art spaces - not nearly with the same amount of gusto or huge creative dose as I might have usually though.
The thing about creativity is
I know myself the times when I just have to park my butt and force it through, and I know the other times when I just have to wait for it to come back to me as it pleases - and this has been one of those latter times. And the constant flow of ideas shows me that if you are a creative, then that never totally leaves you, even when you have to take a break.
Uh! So long blog-post...but I'm back. Gimme a little time to settle back in (yes it's weirdly disorientating coming back after going 'offline' for a while - like taking a long holiday somewhere then having to get used to your regular home routine again lol) but I'll see you soon =)
ps Sweepie missed you too
'where'd you go???'