In my last
post
I said I was making this Dos-a-Dos book out of a cardboard box and I had a couple of comments asking what a dos-a-dos book actually is. Well it means back-to-back, so basically it is one book that contains two (or in some cases, like mine, more than two) books that are backed together like this:
As those of you who know me may have guessed (& considering it is made out of a cardboard box) I have also recycled other items to make it - vintage text pages from a torn book, a scrap piece of metal and (yes more) of my grandmothers left over knitting yarn lol
I have done a tutorial for you guys if you want to make one too, let me know what you think?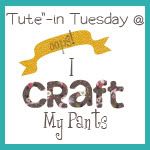 come join and let us see what you've been up to too. Warm wishes Jennibellie
P.S. thanks to all of those who have given kind words for my Grandma when I mentioned she was ill last week, she came out of hospital yesterday on her 60th wedding anniversary - that's not to say she's particularly better but with so many ailments it's unfortunately the norm for us now. But she did get a diamond anniversary card from the Queen so all's not so bad with the world.
Sorry about the crap pics they were taken with an iphone while waiting for our desserts lol xx