Okay so I think I may be a little *too* happy today
(if there is such a thing!)
My bum won't stay still, my hands keeping jiving to non-existent music
and generally I'm just a little giddy.
Because it's days like today, when I've previously spent ages making something, and the time has finally come to send it out into the world, that I really love doing what I do on my little parts of the interweb.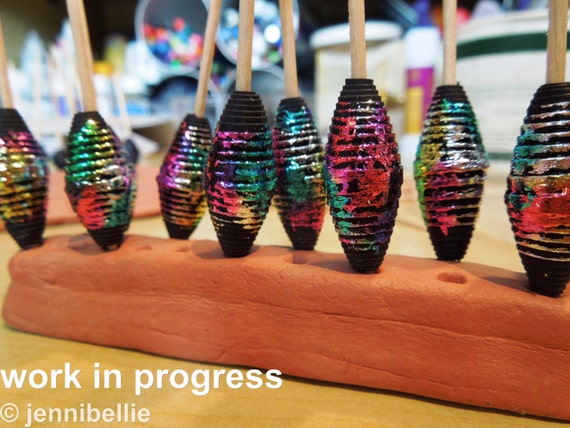 So who's ready for a super *MASSIVE* tutorial?? YAY!
This is my number ONE, most requested video, EVER!
I haven't done it before now as I didn't want to do something similar to things that are already out there. But finally, I think I have managed to do what I wanted. It is 45 minutes long but t
his video has a bunch of separate tutorials smushed into one. Tutorials on different ways to make different shapes and different sized beads. Different techniques for decorating your beads. Tips for what kinds of paper produce what kinds of beads. Information on tools for beading-making. Tips for glazing. Tips on this. Tips on that.
It is basically RAMMED with information.
So I know you would rather see it rather than read me ramble, so here it is I hope you enjoy: