Hi!
I'm incredibly disconnected from online happenings right now and although my arty self just wants to chillax and say 'screw it' to turning the computer on and writing a blogpost, I wanted to hop on just to let you know where I'm at...as if you've been following me for any length of time you know I enjoy sharing the journey of being creative as much as all the glorious outcomes from it.
So the past couple of weeks I've been marinating!
Like crazy marination! If I were a chicken breast (or quorn fillet in my case) I'd be far too tasty and juicy for the taste buds to handle (and probably past my use by date now too lol). What I've been marinating in has been my creativity, my creative spaces, my future creative ideas, my current creative projects and my creative journaling.
The journaling I have been doing has been EPIC - I've done a lot of art journaling, junk journaling and spent a lot of time in my idea journals (video of how I capture and action my ideas is
here
). The kind of journaling that has been most useful, revealing and exciting for me though I've got to say has just been written journaling (video of me sharing my 'regular' written journal is
here
- there's two videos in this post, the written journal is the second one down) and gratitude journaling (I have a
Gratitude Journal Kit
which you can get
here
or by clicking on one of the sneaky peek pictures below if you would like a guide through the process) and I think both have greatly boosted all the work from the other journaling that's been happening - in fact I'd say they've turbo boosted it!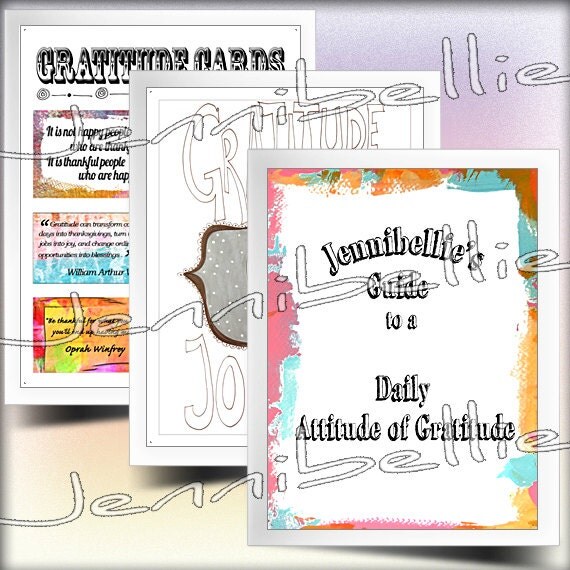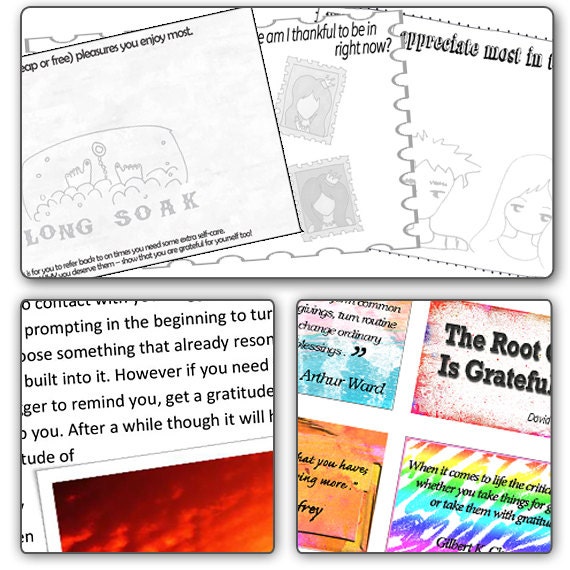 All this journaling has lead me to make a lot of decisions about my creativity and what I want to do/be doing in the future. I've found new areas of creative passion, from things I'd never thought I'd be interested in to new ways I want to get my hands dirty and it's just been great.
True, deep and meaningful marination though has required that I unplug from the internet. At the core of it it's been a re-connection to myself and I believe respecting your creative journey is all about listening to what you need in the moment. Sometimes being online is crazy inspiring for me and other times I need a hiatus (apologies for my hiatus from my Weekly Ramble - last week but I did see that I got a lot of visitors on Friday obviously expecting a blogpost, so I'm sorry for that but YOU are the reason I switched on this week, because I love you!).
I'm still not ready to leave my delicious dish of creative juices just quite yet so here are some PRIVATE previous Weekly Ramble videos I have done (that you can only find if you go hunting through the archives). I'm sharing them here because all three kinda represent where I am right now - the first is about Relaxing in Projects, the second about a Creative Download and the third about Creating a New Space for your creativity to come through and right now I'm in a combination of all three.
So grab a tea or coffee if you're feeling some creative chat time with moi and I can't wait to show you what it's going to be coming out of my marination, so exciting =)
Have a crazy great weekend!
Weekly Ramble's are blogposts I put out on Friday just to share whatever is happening in my art world, regardless of where I'm at in a process, or in my creative flow, or my studio etc the posts are more about capturing a glimpse of the middle than they are showing the shiny finish!